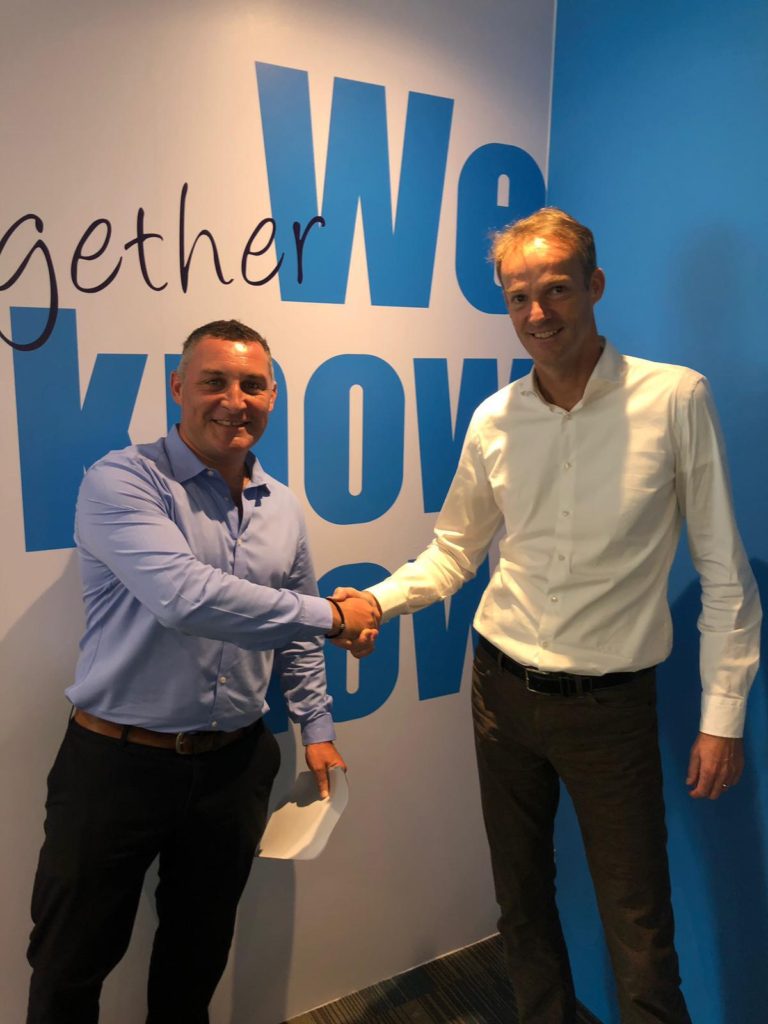 Darren McLean with Adriaan Aarts, CEO, Roll Group
The Management Team at Joint Efficient Developments Consultancy (JEDCO), are pleased to announce the signing of a Collaboration Agreement with heavy cargo specialists, Roll Group. Founded 2006 in the Netherlands, Roll Group takes care of heavy cargo both on land and at sea. Their combination of transportation and installation capabilities enables a complete offering of Factory to Foundation solutions.
Our stakeholder teams have been working together since early 2019, when we kick started exploratory discussions on a Solution Partnering model for Indonesia. Since then we have carried out additional research into other project and investment opportunities. Last month Roll Group confirmed their arrival into facilities operated by one of JEDCO's alliance partners, and through the signing of this Collaboration Agreement, we're now progressing several oil and gas, renewables, port handling and marine opportunities across Asia, Middle East, Europe and North America.
''After months of strategic dialogue and feasibility efforts with Robin and his team, we can now progress full steam with several exciting opportunities. The methodologies and execution strategies that we've developed sit within both companies' capabilities, network and target markets, including oil and gas, renewables, decommissioning and marine.
Roll Group's mission is a total commitment to providing efficient and sustainable land and sea-based solutions to customers. Their management team have a wealth of experience in the engineered heavy lift transportation and installation space.
Confirming a trusted partner such as Roll Group, not only enhances JEDCO's service offerings, but adds-value and extends our collective reach across existing and new customers and geographies around the world."
Darren McLean – Executive Director, JEDCO.
''At Roll Group we take care of heavy cargo both on land and at sea. This exceptional combination of transportation and installation capabilities enables us to offer complete Factory to Foundation solutions. The Agreement with JEDCO allows us to go the extra mile in delivering more end-to-end project solutions. Roll Group is proud of the ability and committed to offering complete transport packages for these projects, including engineering and interface management with JEDCO and their solution partners.
Roll Group's recent investment into the facilities in Singapore and Bintan, Indonesia, are the first of many milestones we foresee through our collaboration with JEDCO. Not only has this given us the home base for our new equipment and fleet in Asia Pacific, but our Asia and Europe business units have already confirmed new scopes of work through 2020.
The solutions that we are developing with JEDCO are complemented further through their alliance network, and a seamless interface of our business development and project management methodologies and processes. Initial focus over the coming months is to complete a joint strategy for an end-to-end decommissioning model in Asia, as well as taking to market a project execution philosophy that will sustainably increase local content on multi-billion-dollars' worth of brownfield and greenfield projects across Indonesia.
JEDCO's full focus on future projects and their Solution Partnering methodologies, processes and people, not only support where we are as a business, but enhance and add real value to where we are going."
Robin Koenis – Managing Director (APAC), Roll Group.